Warning: this article contains major spoilers for Captain Marvel and Avengers: Infinity War.
There's no doubt that Marvel Studios had done amazing work on building the Marvel Cinematic Universe. The shared universe, which combines Marvel's greatest superheroes and dozens of storylines merged together perfectly, started in 2008 with Iron Man. It's been a pretty fun ride since, especially when all of our favorite heroes as they join forces to fight powerful, finger-snapping enemies.
Now, over a decade later, we're facing the conclusion of Phase Three of the MCU, with the highly anticipated Avengers: Endgame coming out soon. Marvel fans are pretty curious to see how Captain Marvel fits in the story after the unfortunate events of Infinity War. We're referring, of course, to The Snappening – where roughly half of the main characters dissolved into dust – or as we like to call it, our mental breakdown.
In the meantime, we got to see Carol Danvers' origin story in the '90s inspired Captain Marvel movie. The film isn't only great, but it also contains quite a few Easter eggs and other small details that some fans may have missed. These details shed light on some events in the movie, link it to other parts of the MCU, and are just plain fun. Here are some of them.
The meaning behind Stan Lee's cameo
Stan Lee, who sadly passed away last November, was the legendary founder of Marvel Entertainment and a true icon who – among many other things – was known for his funny cameos in Marvel films. Lucky for us, he managed to film the cameos for both Captain Marvel and Avengers: Endgame before he passed.
Many fans were excited to see his appearance in Captain Marvel, but did you catch the reference? In the cameo, Stan is reading the script for Mallrats on the train – a Kevin Smith film in which Stan made a real-life cameo back in the 90s. This is incredible cool, not only because the timeline matches, but also because it means Stan Lee himself exists in the Marvel Cinematic Universe.
Fury or Skrull?
In the film, Nick Fury (whom you may recall from almost every other MCU film) meets with Captain Marvel – or Carol Danvers – in a bar, as the two are cooperating with each other to fight the Skrulls. Since the Skrulls are shape-shifters, and can literally become anyone they want – Carol asks Fury to tell her something so random, it couldn't possibly be made up.
He chooses to tell her that if a piece of toast is cut diagonally, he can't eat it. But in Age of Ultron, the agent appears to be eating toast that is – you've guessed it – cut diagonally. This led to a fan theory saying it was actually a Skrull meeting with Carol, and not Fury.
All those '90s references
One of the greatest things about Captain Marvel is the fact that it totally celebrates the awesome decade that is the 1990s, from the moment Carol crashes on Earth in the dope decade. From the soundtrack, which was filled with '90s grunge music, to referencing The Fresh Prince of Bel-Air, to Carol wearing a Nine Inch Nails T-shirt – everything screamed '90s.
In one scene, Carol even sits down in front of an old bulky computer screen to look something up (how did we even survive the '90s?). And since it's not 2019 just yet, she uses AltaVista – a considerably less familiar search engine than what we would use nowadays.
The real-life last Blockbuster
Speaking of the '90s, Carol crash lands into a Blockbuster of all things – which you may vaguely remember existed way before we had streaming services. We used to rent videos (and then DVDs) just like the ones Carol encounters when she lands – True Lies, Hook, and The Right Stuff.
But the Blockbuster filmed in the scene isn't part of a set. It's actually a shot of the actual last Blockbuster store in the world. Marvel was looking to give the viewers a "true '90s" feel, and they certainly did. The branch is already getting some comic-fans tourism, and they even have a Twitter account, which is not to be missed.
So Flerken cute
One character that particularly stole the show in the movie was the adorable Goose, Carol and Fury's furry friend. You know, the one who looks like a cat, but isn't? The unsuspecting characters soon learn this cat-looking creature is actually a Flerken, an alien species that looks innocent enough, but can do all kinds of damage.
Not only does it have purple tentacles that allow it to eat people, but even a little scratch given by it can cause serious harm. Goose's name is actually a nod to the movie Top Gun, as Anthony Edwards' character had the same code name. His job was, of course, a pilot – just like our own Carol Danvers.
Sipping on soda
Samuel L. Jackson is not only an esteemed actor, but he also plays one of the key roles in the Marvel Cinematic Universe, Nick Fury. And it seems the filmmakers decided to give him a little secret gesture in the movie – which many fans didn't even notice.
In one scene, Talos is sipping on a cup of soda. This was actually a reference to Samuel L. Jackson's character drinking soda from a similar cup in Pulp Fiction, one of Samuel's most iconic films.
She has the right stuff
As we've mentioned, we get to see many items from the '90s when Carol crashes on Earth and inside a Blockbuster. One of the movies she comes across is The Right Stuff, a movie from 1983 about pilots training to be the first Americans who go to space.
This is meant to foreshadow Carol discovering her past as a pilot (who was also probably one of the first to go to space, since she arrived on Kree). We think that's a pretty cool reference.
Ingesting the Tesseract
Captain Marvel is set in the '90s, which places its events before those of other MCU movies. And although those movies came out long before, there are quite a few references and links between them.
In The Avengers, for example, Bruce Banner jokingly asks if Nick Fury wants him to swallow the Tesseract to protect it. This is exactly what the Flerken did in Captain Marvel, which means Banner was aware of the events that took place in the '90s.
Can't trust anyone
"It's just a scratch," said Nick Fury, before permanently losing his eye thanks to his pet Flerken who scratched it. We've been wondering about Fury's eye since the very beginning, questioning how exactly he lost it. A Flerken wasn't our first guess, we'll tell you that.
The whole thing was pretty amusing, especially considering how he lost it, but it gets even better. Not everyone remembers this, but in Captain America: Winder Soldier, Fury had said that the last time he trusted someone, it cost him an eye. He's speaking, of course, of his innocent-looking Flerken friend.
Project P.E.G.A.S.U.S.
Another major thing from this film that was mentioned in previous MCU movies is Project P.E.G.A.S.U.S. – a project dedicated to studying the Tesseract. In Captain Marvel, Dr. Wendy Lawson's work on the project resulted in harnessing the Tesseract's powers into the Light-Speed Engine.
In Iron Man 2, we see Tony asking Jarvis to pull him information on the project. Tony's father actually worked on the project and studied the Tesseract himself, as Fury showed Tony.
The Wakanda connection
In the beginning, we find that the Skrulls (whom we still believe are the bad guys) have taken refuge on the planet of Torfa. In the comic book, Torfa is actually known for having a toxic atmosphere which is caused by large quantities of Vibranium.
One fan theory says that Torfa could be the planet from which the meteor that struck Wakanda originated – making Wakanda rich in the alien metal and allowing it to be so technologically advanced.
Korath the Pursuer
If you've seen this guy in the film and wondered why he looked so familiar, it's actually because he's Korath the Pursuer. Played by the talented Djimon Hounsou, this character also appears in Guardians of The Galaxy, as he tries to take the Power Stone away from Peter Quill.
He was a pretty nice villain before Drax basically tore him apart, and in Captain Marvail we get to see a younger version of him as one of the most powerful members of Starforce.
A hidden cameo?
This isn't actually a detail from the movie, but it is a pretty cool fan theory. In the movie, we see in flashbacks how Carol and Monica are gazing at a shooting star. Some fans have come to suspect that this shooting star may have actually been Peter Quill.
As you may recall, he was abducted to space by Yondu. This event took place and 1988, which lines up pretty nicely with Captain Marvel's timeline – since it takes place in 1995 and Carol had been missing for about six years.
Monica Rambeau glows
Monica Rambeau (played by Akira Akbar) is the young daughter of Carol's best friend and fellow pilot, Maria. Monica has some great moments in the film, but one line has hidden meaning behind it, relating to her role in the comic books. When Monica asks if she might get to go to space like Carol, her mother replies, "Only if you learn to glow like your auntie." And that she does.
In the comics, she's most famously known as Photon, who can harness electromagnetic powers. There was even a time when she was Captain Marvel herself. We can see a nod to her comic-book character when an old photo of Maria has her standing next to a plane with the writing "Maria 'Photon' Rambeau" on it.
One tearful line
It's a pretty powerful moment, when Brie Larson's character stands her ground and tells Yon-Rogg, "My name is Carol." Some viewers might have noticed that a tear was rolling down her cheek, and this was actually intentional.
While Brie filmed several other takes in which she says this line in a stoic, powerful fashion, she later realized being strong doesn't mean also being emotionless. She said if she had been in Carol's place, with everything she's been through, she would've had "multitude of emotional experiences," which made her decide on that particular take.
What kind of Kree is this?
Some fans who watched the film noticed that some of the Kree on screen had blue skin, and some had regular, human-looking skin. Carol Danvers, of course, ends up being human – which explains her skin color. But Yon-Rogg is supposed to be a true Kree and his skin isn't blue.
So why the discrepancies? Captain Marvel issue #38 of the comics explains that Kree actually mated with other species, which resulted in what they called "pink-skin Kree." That's pretty lucky for Dr. Lawson, because we're pretty sure someone would've noticed her blue skin at the office.
Monica gave her Kree colors
Fans were baffled when pictures from the set emerged a while ago, showing Brie wearing a green Captain Marvel suit. That's because the colors should be red, white, and blue – but it all made sense when the fans realized how the story began.
When Carol discovered she's actually human and was kidnapped by the Kree, she has Monica help her change her suit's colors. Some viewers may not have noticed, but when she does – she briefly changes it to white and green – the original Kree colors from the comic books.
How she got her powers
In the movie, Carol finds out that Yon-Rogg had killed Mar-Vell during a confrontation at the crash site of her plane. Carol then absorbed the power core – which is how she got her powers before being taken by the Kree.
This scene mirrors a similar moment in the comics, as Mar-Vell and Yon-Rogg face off again, after he's kidnapped Carol Danvers. Then a Kree machine called the Psyche-Magnitron explodes, which kills Yon-Rogg and gives Danvers her powers. Either way, it seems that Yon-Rogg is responsible for Carol gaining powers.
Why they called her Vers
Some members of the audiences may not have noticed this little detail, but it ties everything together beautifully. When we meet Carol as a "Kree," she's called Vers by her peers. We later learn her full name is actually Carol Danvers, and that she's actually a human woman from Earth.
But her Kree name only makes sense after noticing her broken neckless. The original says "Carol Danvers" but after breaking off, all that was left on it was the second part of her last name – "vers."
Will the post credits scene happen?
In the post-credits scene (the first one, not the one where the Flerken coughs up the Tesseracts), we see bits from the much anticipated Avengers: Endgame, which is due to be released this April. We see the Avengers (or what's left of them) trying to work the pager that Fury used to call Carol, when she suddenly shows up.
It got us pretty darn excited, but apparently it might not all happen exactly the same in the movie. There was a similar scene at the end of Doctor Strange, from Thor: Ragnarok – after which they used an altered cut in the film itself.
The red-haired woman
Besides Stan Lee, there was another comic-book creator who appeared in the movie – one that only some fans recognized. When Carol is chasing the Skrull through the subway station, she briefly looks at a red-haired woman.
Some viewers thought the moment seemed significant, and with good reason. That woman is actually comic book writer Kelly Sue DeConnick. Kelly is the one who's responsible for making this version of Carol Danvers we know and love today.
There was supposed to be another ending
There was actually supposed to be a different ending to the film, in which Carol flies off into space on her own, but Brie Larson thought they could do better. Why was she going into space, and where was she going?
She felt like Carol needed a specific goal and mission for the ending to really make sense. Having to help Talos and his family find a home provided a true purpose for the character, who recently rediscovered her life on Earth. She needed a reason to leave, and this was it.
A familiar bunker
It's not only Project P.E.G.A.S.U.S. that has made an appearance in previous movies of the MCU. If the P.E.G.A.S.U.S. bunker looked at all familiar, it's because we've already seen it on screen in The Avengers.
It looks very similar to the bunker Loki enters when he steals the Tesseract, which makes perfect sense considering Project P.E.G.A.S.U.S is dedicated to the study of this vessel, which contains the powerful Space Stone, later used by Thanos in Infinity War.
Fury's full name
The movie sure has provided us with some information about what the '90s looked like in the MCU. We can't say we've always wondered how Fury lost his eye, but it was definitely a fun detail to discover. But it's not the only piece of his past that we've learned.
We now know that Agent Fury's full name is Nicholas Joseph Fury. We also know that absolutely no one calls him that, and we feel like we know him a little better now. Which makes us kind of sad considering he's basically dust now.
Mar-Vell is actually a man
In the film, we learn that it's Dr. Wendy Lawson, who worked on Project P.E.G.A.S.U.S., is a Kree who's named Mar-Vell. But in the bomics, Mar-Vell is actually a man. Mar-Vell is the first person to ever assume the identity of Captain Marvel.
This is why, initially, many fans who learned Jude Law was cast in the movie thought he would play the role of Mar-Vell. This, of course, turned out to be false – as the character was played by Annette Bening.
The supreme intelligence
In the movie, there's a lot of talk about a "Supreme Intelligence" that exists within the Kree Empire, one whose face is forbidden to look at. Well, when you consider what this Supreme Intelligence actually looked like in the comic books, we're not surprised the producers made that choice.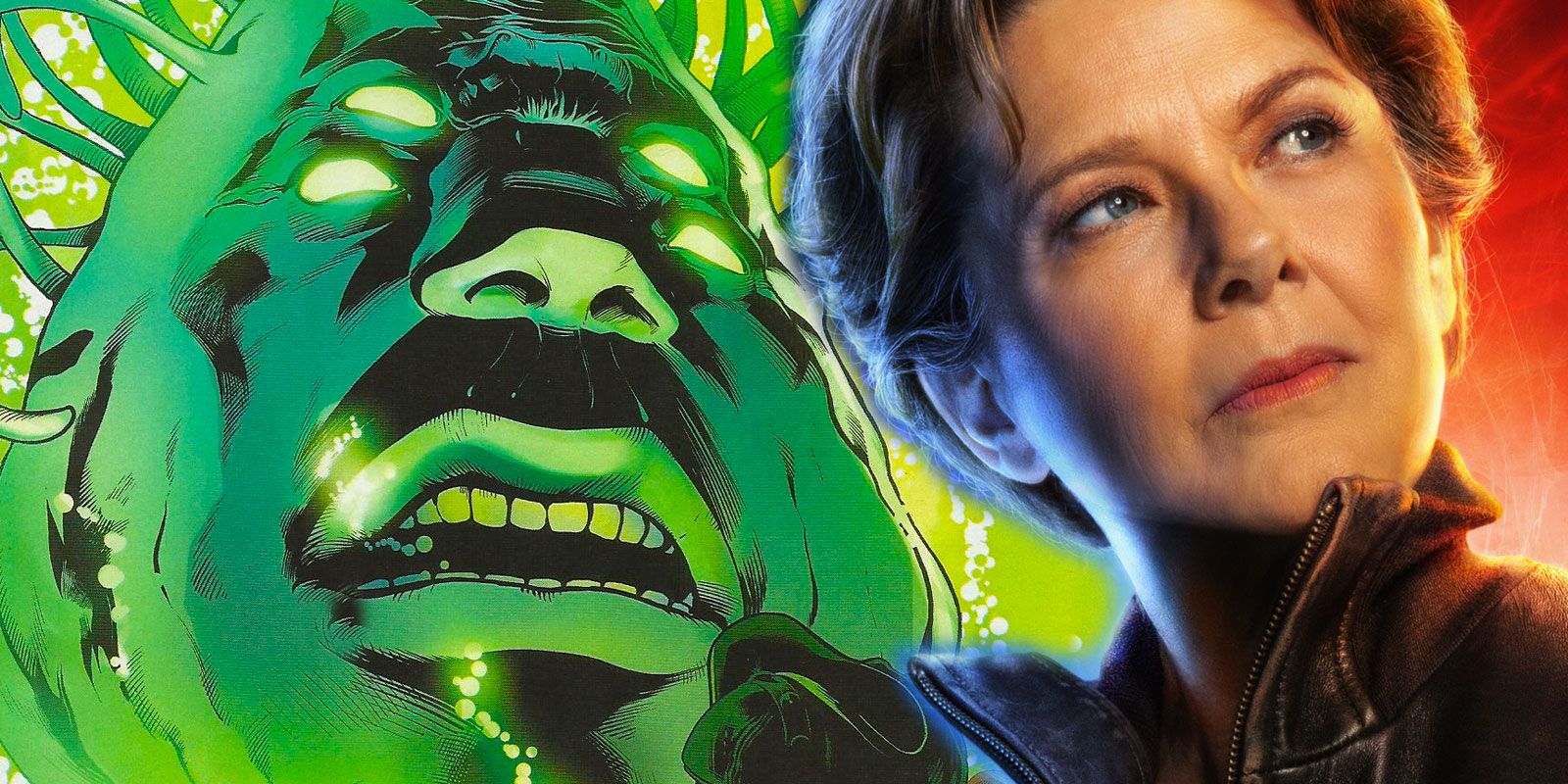 In the comics, it resembles a giant misshapen head with multiple eyes. That's something that no one wants to see in on screen, so they probably made the right move there.
The origin of Carol's mohawk
Carol Danvers is the epitome of cool in Captain Marvel, and one of the strongest reflections of that is her striking mohawk that we see occasionally. But the origin of that mohawk actually started with a bet.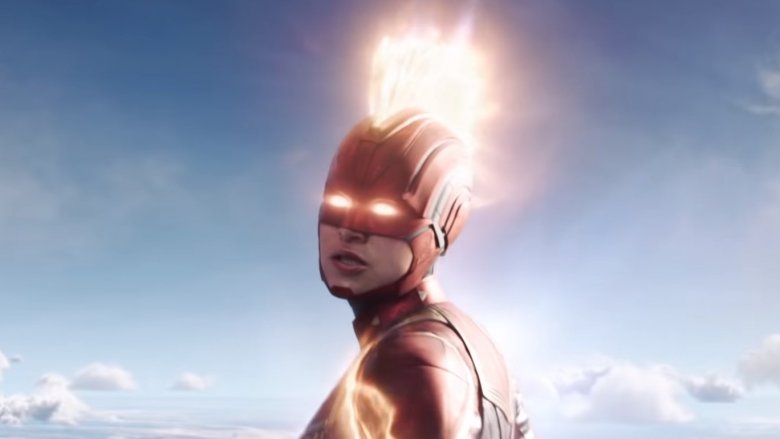 Kelly Sue DeConnick was under pressure trying to sell Carol Danvers to Marvel editorial as the new "Captain Marvel," but she bet her illustrator that if she added the mohawk and it got rejected, she would pay for the redesign herself. Lo and behold, people loved it, and she didn't need to!
Carol's real call sign is a cheeseburger
One of the coolest parts of the film is at the end, when we see Carol's call sign – which is the Avenger's symbol. But that's not the case according to the comics. Apparently, the comic books depict her call sign as a cheeseburger, for the following reason.
During her aircraft training, she ate a cheeseburger before performing some rigorous aerial activities, resulting in her throwing it all up. We can see why the movie producers went with the Avengers symbol instead…
Nick Fury's 'protector' reference
Another cool moment at the end of Captain Marvel is where we see Nick Fury write down the concept for the "Avengers Initiative." He crosses out the word "Protector," and most people thought that this was a throwaway word – but that was far from true.
In fact, "Protector" was actually the name of another Kree soldier in the comics. His name was Noh-Varr, and he actually also ended up becoming Captain Marvel – just a different version.
Universal translator
An issue that some people have had in the past about the MCU is the convenient fact that everyone talks in English. We get a solution to this problem when Carol lands on Earth, and starts conversing with a befuddled security guard.
When he finds himself unable to speak, she asks herself if her "universal translator" is working. This explains how every character in the Marvel universe speaks the same language, even if it's not always spelled out for the rest of us.